SOURCE: http://www.cnn.com/ALLPOLITICS/1997/09/24/irs.hearing/
---
IRS Nightmares Get Senate Hearing
Finance panel hears from parade of witnesses critical of tax agency
By Thomas H. Moore/AllPolitics
WASHINGTON (AllPolitics, Sep. 24) -- Senators looking into alleged IRS abuses produced a long parade of witnesses who described Gestapo-like tactics employed by the tax agency.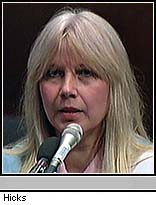 "You don't eat, you don't sleep, you're afraid to talk too much to each other for fear you will take it out on your spouse," a tearful Katherine Hicks of Apple Valley, Calif., told the Senate Finance Committee. "If you do talk, it's about the IRS."
Hicks wrote to Congress for help in her fight against the IRS, though friends advised her not to. "One person ... said, 'That is like painting a bull's-eye on your chest and giving the IRS a loaded gun.' She believes the IRS will never forget this and the IRS is judge, jury and executioner, answerable to none," Hicks said. (448K wav sound)
"An agency of the U.S. government ... should be held to highest standards of honesty and integrity," Hicks said. "The IRS is not."
Even current IRS employees took some swings at the agency.
"As of late we seem to be auditing only poor people," said IRS agent Jennifer Long. "The current IRS management does not believe anyone in this country can possibly live on less than $20,000 a year, insisting that anyone below that level must be cheating by understating their true income. (480K wav sound)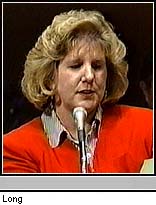 "Currently, in a typical case assigned for audit, there are no assets, no signs of wealth, no evidence that would support a suspicion of higher unreported income. So when the IRS does initiate an audit on these people, these individuals were already only one short step away from being on the street," Long continued.
"I can personally attest to the use of egregious tactics used by IRS revenue agents which are encouraged by members of the IRS management," Long said. "These tactics, which appear nowhere in the IRS manual, are used to extract unfairly assessed taxes from taxpayers, literally ruining families lives and businesses, all unnecessarily and sometimes illegally."
The IRS denies allegations that it targets lower- and middle-income individuals because those cases are easier to win.
The panel also heard from former IRS historian Shelley Davis, author of a book about the agency, "Unbridled Power."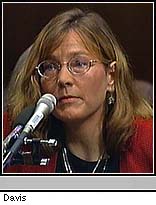 Davis described the IRS as "the best secret-keeping agency in our government today. They are better than the CIA, better than the FBI."
She elaborated on the reasons she grew disillusioned with the way the IRS goes about its business. "I discovered that the IRS does keep lists of American citizens for no reason other than that their political activities might have offended someone at the IRS; about how the IRS believes that anyone who offers even legitimate criticism of the tax collector is a tax protester; about how the IRS shreds its paper trail, which means that there is no history, no evidence and, ultimately, no accountability." (352K wav sound)
Robert Schriebman, a tax professor at the University of Southern California and author of eight books critical of IRS practices and procedures, decried the agency's ability to ignore citizens' due-process protections.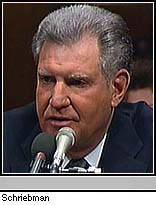 "The IRS can take a taxpayer's home by just the signature of the district director alone," he said.
"There's no court hearing, there is no notice, there is no opportunity to litigate the merits of the IRS' claim," Schriebman said. "The IRS can close down a business ... and take away a taxpayer's livelihood by merely filing a few papers in federal court. The judge simply signs the seizure order and that's all there is to it. The taxpayer gets absolutely no notice, absolutely no opportunity to contest the legality of the assessment that the IRS claims is owed." (448K wav sound)
Republicans in Congress have wondered aloud about a White House role in IRS audits, like that of Paula Jones, who has accused President Bill Clinton of crude sexual advances. David Burham, author of "A Law Unto Itself: The IRS and the Abuse of Power," told the finance panel that politically motivated audits can occur, but that it doesn't take direct pressure from an administration to get one rolling.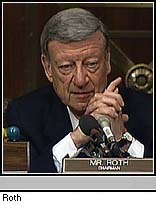 "It's not as simple as the White House calling the commissioner and saying, 'Go get these guys,' because if there is a perception inside the IRS that this is the type of activity that the adminstration wants to protect itself from this kind of scrutiny, then the IRS may very well do it on their own," he said. "It doesn't take direction from the White House; the IRS has the power on their own to do it -- there's nothing to stop them from doing it now."
Finance Committee Chairman William V. Roth Jr. (R-Del.) has called this week's hearings "oversight" and "not IRS-bashing." Some critics say Republicans seek to further their anti-tax agenda by blasting the unpopular agency.
The panel has scheduled one more day of hearings. Its Tuesday session was cut short by an unrelated dispute among Senate leaders.